<! INSERT STATE LOGO HERE >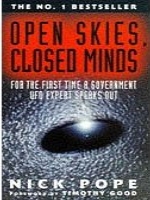 More reviews.

<! INSERT TEXT HERE> Nick Pope worked for the British Ministry of Defense to determine whether UFOs constituted a threat to national security. In this shocking and block-busting work, Nick reveals his inside investigations into UFOs to the public, making him one of the most authorative UFO experts in the world. Concerned by the defence and national security implications of these unauthorised intrusions into British airspace, Nick exposes to the public his official conclusion that some UFOs are extraterrestrial in origin.

Nick shocks the world by revealing how the official findings of high-weight cases are consistant with many of the findings of public UFO researchers. People are experiencing something from outside the known world. Many UFOs appear to be technology-driven craft under intelligent control, and their occupants seem to be interacting with humanity. Nick concedes the possibility that a powerful global network of sponsored UFO-suppression might exist, but the source of it seems more likely to lie with the Americans, not the British goverment.

<! INSERT REFERENCES HERE>

Read more reviews on this book.