<! INSERT STATE LOGO HERE >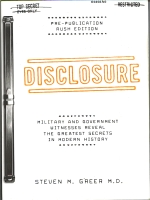 More reviews.

<! INSERT TEXT HERE>

Recommended!

As the future of our earth hangs precariously - polluted, factioned, and energy-starved - Dr. Greer's work demands immediate attention as he offers us a solution - Disclosure.

For the first time ever, backed up by official documents, the hardcore testimony of a selection of five dozen high-ranking authorities is drawn together from Greer's disclosure project to reveal the worldwide covert program to coverup and control UFO information. With the heaviest of testimony, he proves once and for all that UFOs are very much real, that they represent invaluable advanced technology from elsewhere, and that a select elite are withholding this knowledge from humanity.

Revealed is the real agenda behind the Star Wars project as a hoax upon the taxpayer to spend trillions on a weapons build-up, and the reality of cheap energy and anti-gravity propulsion systems. Military, government, NASA, intelligence, black-budget, and corporate witnesses disclose with absolute clarity that secret UFO-based technology exists, and that it could bring us a new civilisation free of pollution and poverty and capable of traveling amoung the stars.

So why is the subject so supressed and secretive? And what happens to those who blab about classified UFO information? Greer answers these questions and shows that the progress of civilisation has been deferred for over 50 years, and all for greed and power for the few. Yet Greer offers the culprits a win-win way out of the mess - Disclosure and amnesty.

An expose of the greatest secret on earth, featuring testimony from Police Constable Alan Godfrey, Astronaut Gordon Cooper, Former-Head of British Ministry of Defence Five Star Admiral Lord Hill-Norton, and Nick Pope of the British Ministry of Defence. For anyone serious about exposing UFO secrecy, Disclosure is a must-have.

<! INSERT REFERENCES HERE>

Read more reviews on this book.