<! INSERT STATE LOGO HERE >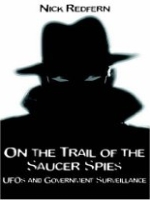 More reviews.

<! INSERT TEXT HERE> Nicolas Redfern continues his research and investigations into the involvement of secret police in the UFO phenomenon. Somewhat a continuation of his previous work, "The FBI Files", Nick aquires new information, gets access to more declassified documents and fresh witnesses, confirming many of his suspicions - The secret police are tailing UFO witnesses, infiltrating UFO organisations, and phone-tapping UFO investigators.

Nick historically reviews all the government secrecy, espionage, and covert techniques used to control the topic of UFOs and the people involved, and demonstrates why those with an interest in UFOs have reason to be paranoid - they tend to receive unwanted attention from shadowy officials.

<! INSERT REFERENCES HERE>

Read more reviews on this book.