<! INSERT STATE LOGO HERE >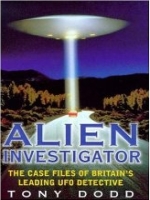 More reviews.

<! INSERT TEXT HERE> In the early hours one night in January 1978, Police Sergeant Tony Dodd and Constable Alan Dale were travelling in a police car when they observed a dome shaped circular UFO in the vicinity of Cononley near Skipton, North Yorkshire. At close proximity, and at an altitude of 100 feet, it moved silently over fields before passing directly over the police car. Portholes could be seen on the upper dome and there were three spheres protruding from its underside. The object was seen going over a hill as if to land. Soon they were joined by another officer in a marked vehicle who confirmed that he too had witnessed the UFO from a different position.

So marked the first of four UFO sightings made by Sergeant Dodd, his experiences inspiring him to begin investigating the source of the phenomenon. Subsequently he became a famous UFO investigator and researcher and now one of the world's leading experts on UFOs and alien visitation, Tony is the author of "Alien Investigator – the case files of Britains Leading UFO detective", the story of his investigations into the UFO phenomenon.

Read as Dodd uses his policing skills to arrive at the same conclusion made by so many UFO investigators before him - There seems to be some sort of massive government-sponsored cover-up on the subject of UFOs and extraterrestrials. Read as Dodd discloses the discovery of a secret UFO base somewhere deep within the North Atlantic. Dodd relates a meeting between aliens and high-level UN officials aboard a naval vessel, and talks about the dangers he faced getting to these hard truths.

<! INSERT REFERENCES HERE>

Read more reviews on this book.